Thrilled to have my digital video artwork:

  

Bayes Valley

take part in the upcoming Digital Arts Festival at the AKM, Istanbul (Ataturk Kultur MerkezI)!
Screens can be tiresome and the internet can be dry sometimes. The series "Moisturize your Eyes" humorously poses itself as lubricant for human machine interaction - to moisturize human bodies against machine induce dryness.
The algorithmically generated artwork is composed of a murky white fluid that shifts and glides across your screen with shining glimpses of spectral gradients. It is slow, gentle and repetitive. It hopes for a moment of connection to the present and a bodily awareness to touch and immerse our senses.
When you open your eyes for the first time, light streams, what do you see? A newborn's gaze is immediately drawn to faces. This is condition that persists throughout our lives: we are hardwired to look at other humans. People like looking at people, but what are some of the other underlying patterns behind our perception that help us make sense of our world?
This is how I got tangled up in Predictive Processing theory that simply posits : our minds are prediction machines. Recently, I have been encountering the predictive mechanism of our brains more and more. Outside my window there are a series of trees and among them is a discolored red-orange tinted bush. I see the bush from the corner of my and keep thinking it is one of the foxes roaming outside, but quickly correct that it's not. Soon after a few times that the bush tricked my eyes, my brain got the message that this is a bush not a fox.
The best way of understanding predictive processing theory is through experiencing it. One of the great examples of this is hearing a muffled, illegible audio record, and following a clean version played after. Once the clean version is heard - it cannot be unheard. The muffled sound that once made no sense can be understood with a remarkably clear pattern formulated in our perception. Every interaction with our world molds our minds, helps us form patterns that then shape our future perceptions. And once again, the mind, the senses and our environments are closely coupled up in an intricate choreography fictioned by our perceptions.
After 3 years of

research

and development my paper's officially published with ACM Siggraph!
My paper  "When a Robot Blushes" will be presented at the IEEE International Conference on Robotics and Automation on June 4, 2021 – 10:00AM CET. 
Abstract— The tacit, dynamic and affective dimensions of our visual system constitute the basis of our rich perceptions of the world. There is a growing danger in treating technologies that have become a part of our visual system as disembodied and alarmingly machinic, a symptom of the persisting cartesian agenda that draws impermeable boundaries between the mind and the body. It is here where artists working with interactive media, and vision technologies come in to reclaim the affective registers of perception in an increasingly paranoid technoculture complex. Me and my colleagues at the Interactive Architecture Lab Anne-Héloise Dautel and Robert Wuss, have been researching various ways of utilizing eye tracking technology in robotics to create non-trivial, meaningful interactions. Investing in the affective, haptic and bodily underpinnings of vision and perception, our projects explore the embodied dimensions of using eye-tracking as an interface for robotics. Through a discussion of the interactive installation Entangled Eye this paper looks at ways in which we can negotiate digital and immaterial processes of technology as affective, embodied actions to illustrate how technology is inherently bound with human embodiment.
Irem Bugdayci, "When a Robot Blushes", IEEE Int. Conf. on Robotics and Automation, ICRA'21, Sentimental Machines,

2021

​​​​​​​
✴ Research Presentation ✴
Past month, I had the pleasure to give a public workshop with my colleagues at ArtBizTech, which I am a part of now as an Experiential Designer. We talked about my robots, nature of intelligence, our perception of machines and more. Here's a preview from the ArtBizTech Newsletter wonderfully worded by Jing Yi Teo and a reflection from me. You can find my reading list, watch and listening guide bellow.  
Shared my Research Instruments of Vision at the DigitalFUTURES Young: Interactive Design session :)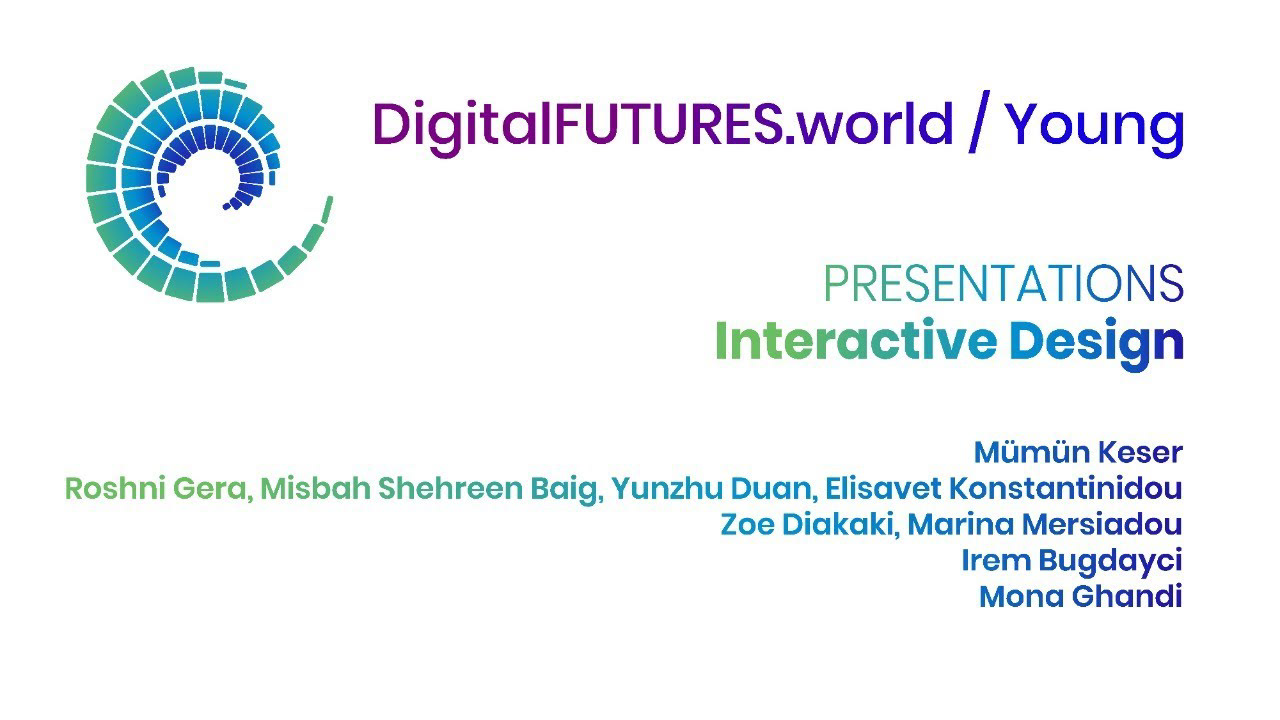 I had the wonderful opportunity to publish my musings on interactive arts and my own practice in times of social distancing. 
Identifying a concerning loss of immediacy, physicality and punctuality, I explore a new set of relations that arise as we navigate virtual environments that give ways to our bodily existence in digital. 
My design process involves a lot of research, sketching, making diagrams along with prototyping. I try to keep these in an updated portfolio to organize and keep track of my thoughts. 
Submitted my thesis for my Masters in Architecture, Design for Performance and Interaction Degree and 
I'm honored to win the thesis award, it was a truly wonderful experience writing this piece. 
In the ubiquitous age of visual technologies, our perceptive apparatuses are constantly challenged, adapted and shaped by instruments and machines, rendering the observing body as an active site of knowledge and intervention. Many theorists from disciplines of art history, visual studies and new media studies have characterized digitization and accelerated development of visual technologies as an alarming machinification and disembodiment of vision, posing the threat of obliterating the function of the observer. Here it is argued that artists working with vision technologies often invest in the affective, haptic, situated and bodily underpinnings of vision and perception, to navigate the relationship between the observing body and the machine. Finding support for this program from the disciplines of cognitive science, visual studies, art history, cybernetics and philosophy, a multiplicity of understandings of vision that go beyond cartesian dualisms will be illustrated. By critically looking at the tactics and methods in which artists afford "ways of seeing," I will reflect on my practice where I primarily investigate ways of using eye tracking technology in robotics and visual systems to create non-trivial "vision machines." 
My favorite chapter from my
thesis dissertation
- discussing how vision is inherently subjective, material and embodied, situated somewhere in between the observer and the environment, machinic and human simultaneously. 
Thrilled to be selected for Bang Prix development program! Learn more about me and other artist's journey.
Sketches, prints and kinetic sculptures, egg frying projectors - experiments in making